For your indoor-riding money, which is better: Peloton or Zwift? I have both, and although Peloton riders and Zwift riders each have more or less the same goal of getting a good cycling workout, they almost could not be more different. After about 1,000 Peloton rides (just about every day for a couple of years), I switched entirely over to Zwift a few months ago, but am now splitting my time between the two. I'll explain why…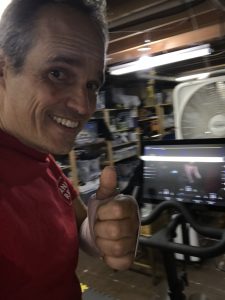 The Peloton Experience
For this comparison, I am going to by relying on my own history with both the Peloton bike and the Zwift experience, and talk about the pros and cons of each. You'll see that sometimes the comparisons are apples-to-oranges (after all, one is hardware with streaming content and the other is an app to which you bring your own interface) but I think it is possible to make some valid comparison since at the end of the day it's all variations on indoor cycling / spinning.
My Introduction to the Peloton Bike
I bought my Peloton bike a couple of years ago after hearing my brother go on and on about how the Peloton had improved his fitness. It was hard to miss that he'd lost 70 pounds in the year he'd owned it, and that summer when members of our extended family climbed Mt. Mansfield he certainly did seem to be up to the task (we rewarded him by making him carry the backpack). Even so, my friends who know me as a cheerleader for the bike that goes nowhere might be surprised to learn that I left my first visit to the showroom unimpressed.
In August of 2017, my wife and I went to our local Peloton showroom (yeah, we live in a place like that) where we got to sample the bike. The salesperson showed me that you watch the class on the screen and turn the resistance knob when the instructor tells you.
"If the bike knows the resistance should go up, why do I have to turn the knob?" I asked. This was a dumb bike. Nicely made, and super smooth action (thanks to a drive belt instead of a chain), but just plain dumb.
Eager to please, she showed me a feature called "just ride" that featured beautiful movies of rides on trails and roads that I could just follow, bringing my own soundtrack if I wanted to. "So, if the road goes uphill in the movie, does the ride get harder?" I asked. "No," she replied. The fact is, the experience on the bike has nothing to do with what you see on the screen. Again, dumb.
My wife and I left without buying a bike. I am not sure exactly how she felt about it at the time, but I was disappointed. I wanted a bike I could ride in the winter, and this didn't seem to be it. I had never taken a spin class and wasn't all that enthusiastic to, either. And, for all the hype, the Peloton experience is just a spin class beamed to you over the Internet. I mean, let's keep some perspective.
The Peloton is not a biking simulator
Over the next few days, I actually found myself starting to reconsider my first impression. I had been disappointed in the Peloton bike because wasn't the indoor bike simulator I wanted, but then again, it wasn't trying to be. I realized on reflection that a big factor in my disappointment was my expectations and not anything to do with the bike itself. The following weekend, my wife and I went back to take a sample class on the bike.
This time, I started to think of the Peloton as a training tool, a piece of equipment that could make me a better cyclist not though a true simulation, but by focusing on very specific elements of the experience, namely building up my cardiovascular endurance and my leg muscles. The Peloton bike is a direct-drive setup (like a fixie) and there is no coasting on the Peloton — something that took some getting used to… I felt like George Jetson on the treadmill sometimes! With no coasting, there really isn't any "downhill" on the Peloton, either. You can lighten up the resistance to next to nothing, but you are still spinning even when your are in so-called "active recovery," which is the closest thing to rest that you're ever going to get as long as class is in session.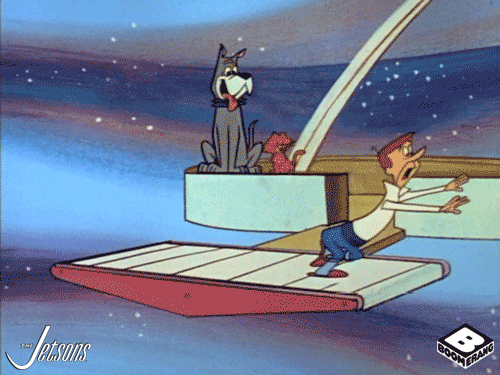 Given how happy I am with my Peloton bike today it's funny to think that purchasing it was such a close call. Even after the second visit, I was still on the fence. After all, start-up cost for the bike was north of $2,500, and I'd pretty much agonize over that sort of spend if I didn't end up using it. My wife seemed interested, though, and in the end each of us rationalized the purchase by telling ourselves that we were doing it for the other.
Does the Peloton really work?
Yes. Yes it does. You have to actually ride it, though. Get yourself on a schedule where you're doing, say, three or four 45 minute rides a week and I can't imagine how you won't see a difference. And cycling is one of the lowest-impact exercises there is, so if you've got the motivation you can do it every day.
On the topic of the Peloton's effectiveness, I'd say that for building cardiovascular fitness it's probably even better than actual cycling out on the road. On the Peloton, there really is no downhill-as I mentioned before there is no coasting. You also don't ever need to stop for traffic lights or stop signs or anything like that. It is one continuous workout. In fact, the only way I'd say the Peloton bike was easier than the road bike is that on the Peloton you choose your own resistance and can increase or decrease it at any time, whereas on the road bike the hills are what they are, and although you get to select your gearing you still have to get up the hills on your route.
So, if you love your Peloton, why did you pony up for a Zwift setup?
After about two years riding (generally daily) on the Peloton, I was starting to wonder if there might be more in life. We had a couple of great years, and at the end of it I was in excellent shape, maybe twenty pounds lighter, and able to keep up with riders half my age (and drop them on the hills — priceless!). The Peloton is a low-impact exercise and it's something you can do every day, and I really couldn't ask for more. Still, I had started seeing the Zwift demo bikes set up in the bike shop and was being bombarded constantly on YouTube by Zwift ads, and I started to think, "it really would be fun to actually do a bike riding / racing simulator."
I didn't take the plunge right away. After all, although I owned a road bike I didn't have the other equipment needed to get started. For the uninitiated, it's important to know that Zwift is an internet service / app(s), and not a hardware/software/service combination the way Peloton is. The hardware component of Zwift is BYO, and the cost can be significant, particularly if you don't have a bike. (On the other hand, if you do have a bike some Zwift setups can be relatively inexpensive.)
Since I didn't already have an indoor trainer, I used Zwift's website for guidance and settled on a Wahoo Kickr / Wahoo Climb combo. I already had an Apple TV and (as I mentioned) a bike, so I wouldn't have to purchase anything else, but the Wahoo gear ran north of $1500 all by itself. Zwift is a subscription service with a monthly fee, too, so if depending on what equipment you have already the Zwift experience cost can rival that of the Peloton (though over time the much higher Peloton subscription cost will make a big difference). Setting up Zwift wasn't too difficult, but unfortunately that is only half the battle in this case, because the trainer itself needs to be set up. Getting my bike connected to the Wahoo (I bought the wheel-off model) and dialed in took a fair amount of time, so advantage Peloton in the "getting started" matchup.
Closer, but still not a perfect simulator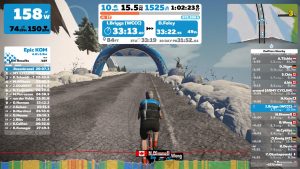 Although I enjoy the Zwift very much, it is sadly not a perfect bicycling simulator, either. Now, I'm aware that most of the shortcomings I'm about to detail have to do with the (Wahoo) hardware and not the Zwift program, exactly. But you can't Zwift without hardware, and I'm using what seems to be their preferred setup, so at the end of the day I don't think it's really off the mark to call these things issues with Zwift.
The first shortcoming that becomes obvious is that there is no braking in Zwift. I think there's a keyboard key for slowing down, but practically speaking there's no braking. That's not nearly as big a problem in the virtual world as it would be in the real one, because Zwift has no collision detection so there is no chance of colliding with your fellow riders or obstacles, and there is no chance of you not being able to make a corner due to excessive speed. Still, drafting is a thing in Zwift (and some opine that it's an even greater force there than IRL) and it can be tricky to tuck in behind another rider when you can't actually tap the brakes. Complicating things is the subtle latency between the trainer and the app, and positioning yourself for drafting becomes an art form.
Along the same lines there is no steering in Zwift. You can make route-level decisions such as turning left to go to the volcano or turning right to climb a mountain, but that's as far as that goes. As I mentioned, there are no collisions in Zwift, so you don't have to worry about steering all that much (in fact, sitting in the middle of a pack of fifty riders is no big deal in Zwift!) but as Zwift is trying to expand into dirt and gravel simulations, the lack of steering is a barrier to having any sort of technical riding. For road riding, I don't find it a big deal.
Another shortcoming, and the one I still notice on a daily basis, is that the feel of the bike isn't the same, particularly when pedaling hard. Because my bike is locked into the trainer, it has none of the natural rocking from side to side that is part of pedaling. This isn't so noticeable at pace speed, but when sprinting or climbing it feels very restrictive.
Speaking of climbing, that, too, is somewhat unnatural. While I appreciate the Climb's ability to raise the front fork of my bike to change the geometry for climbing, if I get out of the saddle to make it up a particularly steep grade the whole assembly gets to be a bit unbalanced, and sometimes the rear end lifts a little. It's not terrible, but it's not "normal", either, and inhibits all-out efforts at climbing.
As I said before, these things could easily be called shortcomings of the trainer rather than of Zwift, but since they're part of the Zwift experience I think it's fair to include them. Wahoo has recently released their own Wahoo bike (which, at over $3000, is more expensive than my road bike!) and Saris (among other companies) have introduced wooden "bike surfboards" to allow for more natural motion, so it's clear that the issues are known and people are hard at work trying to find solutions. Indeed, it seems to be a badly kept secret that Zwift is working on it's own trainers, if for no other reason than to standardize a feature set. As of this writing, though, there is still work to do.
So, with those gripes out the way I have to say that I do love riding on Zwift. It doesn't take the place of riding outdoors, but it's a fun diversion. Zwift races are fun, and Zwift group rides (which everyone just understands are races, too) are great. I even did a "meetup" with about a half-dozen of friends from the cycling club and we ran one of the courses together (using discord to chat). It's a great way to spend a couple of hours, and I am very much looking forward to seeing the platform grow over time.
Even though I'm really enjoying Zwifting, that doesn't mean I've turned my back on the Peloton. In fact, in recent weeks I've been spending even more time on the Peloton than on the Zwift. I'll explain below…
Why Zwift is better than Peloton
Zwift is more fun. I think I can say that without reservation. On Zwift you climb mountains (including a faithful reproduction of the Alpe D'Huez, which is close to an hour and half of unremitting uphill), ride underwater (through a see-thru tunnel, though I suppose in the game even that isn't needed), past dinosaurs and volcanos. There is visual interest in the landscape, and it doesn't get boring any more than your local outdoor rides do.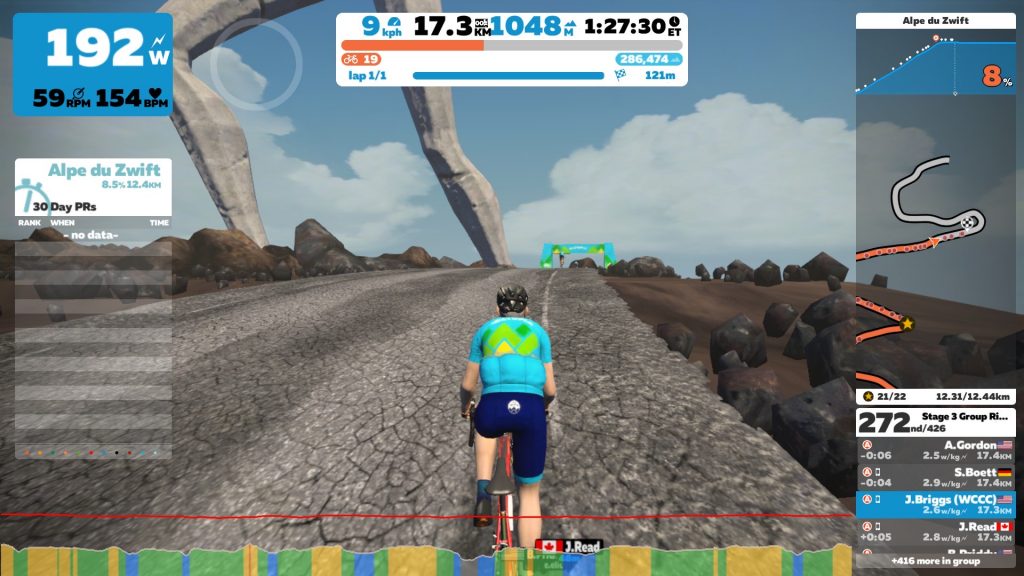 I also think that I work a bit harder in Zwift. On the Peloton, I may be asked to pedal for thirty more seconds at a high resistance, but on the Zwift I know I'm pedaling hard because I'm near the top of a hill — I can even see the mountain goats hanging out at the summit. On the Peloton, I may be chasing the person above me on the leaderboard, but it's really just by following a number (the number of kilojoules they've output as compared with me) which is dry to say the least. In fact, Peloton very deliberately de-emphasizes competition while in Zwift even the group rides are races. And when you're chasing someone in Zwift you literally see them up the road, and you can viscerally feel the gap closing or widening. Dropping a friend in Zwift is every bit as satisfying as dropping them in the real world.
So, if Zwift is more fun and I get a better workout, why ever go back to the Peloton? Well, Peloton does have its own strengths.
Why Peloton is better than Zwift
I find the consistency of the Peloton workouts to be an advantage. Although there are different types of rides (tabata, hills, intervals, etc), one forty-five minute class seems to me to be much like another, so I can compare outputs and distances across rides much more evenly. By contrast, on the Zwift, I might be trying to compare a thirty-minute climb of Mt. Zwift this week to an hour on the desert flats last week and really have no idea how they match up. On the Peloton bike, I find that the consistency of the challenge makes it easier for me to gauge my efforts and to track my progress.
I also find the Peloton experience a bit more civilized than the Zwift experience. Of course, my choice of bike and Wahoo trainer is not Zwift's doing, but since I'm using the preferred setup I think a comparison can be made. The Peloton bike is heavy and sturdy, easily adjustable for things like seat height and handlebar height, and nearly silent in operation due to its belt-driven mechanism. By contrast, my Zwift setup seems exceedingly cramped and noisy. It's my own bike that I selected and set up, so you'd think that'd be perfect for me, but because it is clamped into the Wahoo trainer it feels unnaturally rigid. The chain and derailleurs are considerably more noisy than the Peloton's belt, and that noise is amplified by the indoor setting — I never thought of the bike as noisy when it was outdoors.
Another big advantage that the Peloton has over the Zwift is that there is less involved at the start of each workout. Even if I have to adjust the bike after my wife's used it (sharing a bike is not really even an option in the Zwift world unless both riders are exactly the same size) I can jump on the bike and be ready to start a workout within a minute or so. With Zwift I need to turn on the TV, turn on the Apple TV, choose the Zwift app, launch the Zwift companion on my phone (because of the limited Bluetooth connections on the Apple TV), start my Kickr and Climb, pair the bike to the companion app, and choose a ride using the horrible Apple TV remote (which is a lot like dialing your phone from five feet away using a pool cue). It takes several minutes. And, because every Zwift "event" is a race, I'd better be good and warmed up well before the official start! What it all comes down to is that when I have limited time it is far easier for me to grab my chest strap and my shoes and jump on the Peloton. Sometimes, there is something to be said for freedom from choice.
So, Peloton or Zwift?
Not many people are going to want to invest in both Peloton and Zwift. After all, you are getting the same sort of exercise with each, and you obviously can't ride both at the same time. I'm going to answer this question with an "it depends", which feels like a bit of a cop-out, but I'll try to explain myself.
The Pelotoner wants to work out. It's a pure workout machine. It may not be as much fun as the Zwift, but there is an enthusiastic instructor and (hopefully) good music, and as long as you challenge yourself you can get the best bang for your buck for the time you have to spend riding.
The Zwifter is the cyclist, who is driven indoors either by weather or expediency. The workouts are quite varied, and some can be much more challenging than a typical Peloton class (and Zwift does have a "workout" mode with intervals pegged to different power zones), but it's a little more difficult to do a Zwift workout if you have a hard stop at the other end (most Zwift rides are distance-bound, rather than time-bound).
So, if I had to choose, which one would be my pick? Because I ride outdoors during the season (and whenever I can), I think I'd pick the Peloton. It helps me maintain my fitness, and because the classes are all time-bound I can more easily fit the workout into my schedule. If, for some reason, I somehow found myself unable ride in the real world (which is what got me into all this in the first place), I'd pick the Zwift as the platform that can hold my interest better.
Final Thoughts
After I finished this blog post, I realized that there was one angle I really hadn't discussed, and that is, which of these two platforms can best simulate the other? The answer, I think, is clearly Zwift. There is a training mode in Zwift which lays outs an exercise plan based on power zones, just like the Peloton Power Zone rides. There is an FTP test and then the zones are used for the training courses. In fact, the Zwift training courses have a cool feature where, if you are doing a multiple-workout course, after finishing one the next might not be available for a day or two, forcing you to rest (or at least encouraging it). There is also a limit to how long you can wait to do the next workout, so not only do you have to rest but you can't rest too long and still complete the course as it's prescribed.
By contrast, the Peloton doesn't have anything that really simulates an actual bike ride, and because it's up to you to set the resistance, it never will. It's just not baked into the DNA. I am still a big Peloton fan, but the fact is it rather unapologetically does just one thing. If that one thing is the one thing you want, then there's your answer to whether Peloton or Zwift is the right pick.